Mach-B Grinding Wheel Shaping and Resizing, a division of Goodson Shop Supplies
The company, which specializes in modifying abrasive grinding wheels set up shop in Winona, MN in 2004. Since that time, we have expanded our staff and added a CNC machine to accommodate more wheels and provide more versatility to our offerings.
In 2020, Mach-B, along with parent-company, Goodson Shop Supplies, became an Employee-owned company. What does this mean for you? It means every employee-owner has a stake in the success of our customers because our success depends on your success. We stand ready to help you in whatever ways we can.
Our Staff has the expertise to meet your needs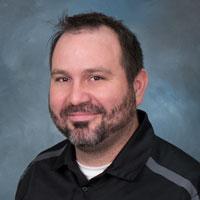 Richard Orlikowski
Richard Orlikowski has been a part of the Goodson team for basically his whole life. His father was the Production Manager until his retirement so you could say grinding wheels are in his blood. For any questions you have about your order or it's status, contact Richard.
Chris Jensen
Chris Jensen, a long-time member of the Goodson Tech Services Department, is the Mach-B abrasives specialist. His 30 plus years of experience in specifying abrasives for a wide range of projects gives him the ability to quote jobs quickly and accurately.
Jon Kukowski
Jon Kukowski has been with Goodson the longest of any currently serving employee. With 35 plus years of experience, he leads the Mach-B Production Department, ensuring all orders are completed promptly and correctly.
These are, of course, not the only Mach-B staff. They are supported by many others such as receivers, shippers, grinders, bookkeepers, etc. Every one of the employee-owners of Goodson and Mach-B are here to serve you and meet your needs.